Are you a college student or a recent college graduate interested in an internship or an early career program? At Owens Corning, we know how hard you've worked to excel academically. And because of that, we're confident you'll be able to hit the ground running in our dynamic work environment. Learning doesn't stop with a degree. That's why continuous growth and development are part of our culture.
Our Programs
We offer a variety of opportunities in several functional areas for enrolled students as well as recent recipients of bachelor, master, and doctoral degrees. These programs will make the most of your education and help you launch an exciting career with Owens Corning.
We offer two programs to highly qualified students and graduates:
Internships – typically a 12-week program, concentrated at our world headquarters in Toledo, but extending to plants and R&D centers across the U.S. and even internationally
Leadership Development Program – rotational program, ranging from 18 months to three years, offered in 12 different functional areas, from marketing and finance to engineering and science & technology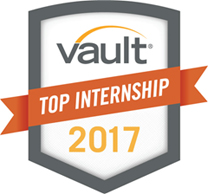 The Owens Corning internship program ranked among the top 50 in the U.S. for the second year in a row, according to Vault.com. To compile the 2017 ranking, Vault surveyed 12,000 interns across the U.S., covering quality of life, compensation and benefits, career development, and full-time employment prospects. In types of internships, Owens Corning ranked #6 in engineering and #5 in consumer. Click Here to learn more.
See Yourself Here
Listen to what our talented development program participants are saying:
Alana – "Owens Corning offered the resources of a Fortune 500® and the atmosphere of a small business where you're able to talk to senior leaders"

Saif – "You're taking on real-life EHS projects that have real impact"

Sarah – "Most recently, I was given a team of 15 people to lead through a big, strategic initiative"

Nicholas – "While they understand it's an entry-level role, you're there to grow quickly"

Dr. Richelle – "It's a rotational program so I wasn't siloed into one department"
Whether you're looking for similar experiences in your first job or you're a more experienced job-seeker, take a few minutes to listen to these Owens Corning employees. They will tell you in their own words how they are "building market-leading business" (our mission) and "making the world a better place" (our purpose).
Our Career Areas
Supply Chain Internships and Leadership Development Programs
Finance & Accounting Internships and Leadership Development Programs
Information Systems Internships and Leadership Development Programs
Manufacturing Engineering Internships and Leadership Development Programs
Science & Technology Internships and Leadership Development Programs
Environmental, Health & Safety Internships and Leadership Development Programs
Human Resources Internships and Leadership Development Programs
Sourcing Internships and Leadership Development Programs
Corporate Communications Internships
Strategic Leadership Development Internships and Leadership Development Programs
Sales Internships and Leadership Development Programs