Where inspiration happens
Making an impact across the world hinges on being able to operate on a global scale. Around the world, you'll find Owens Corning employees bringing their inspiration, curiosity, and dedication to creating materials that make a positive difference to the planet. For you, our global perspective and impact could mean opportunities to grow and expand your expertise in ways you've only ever imagined.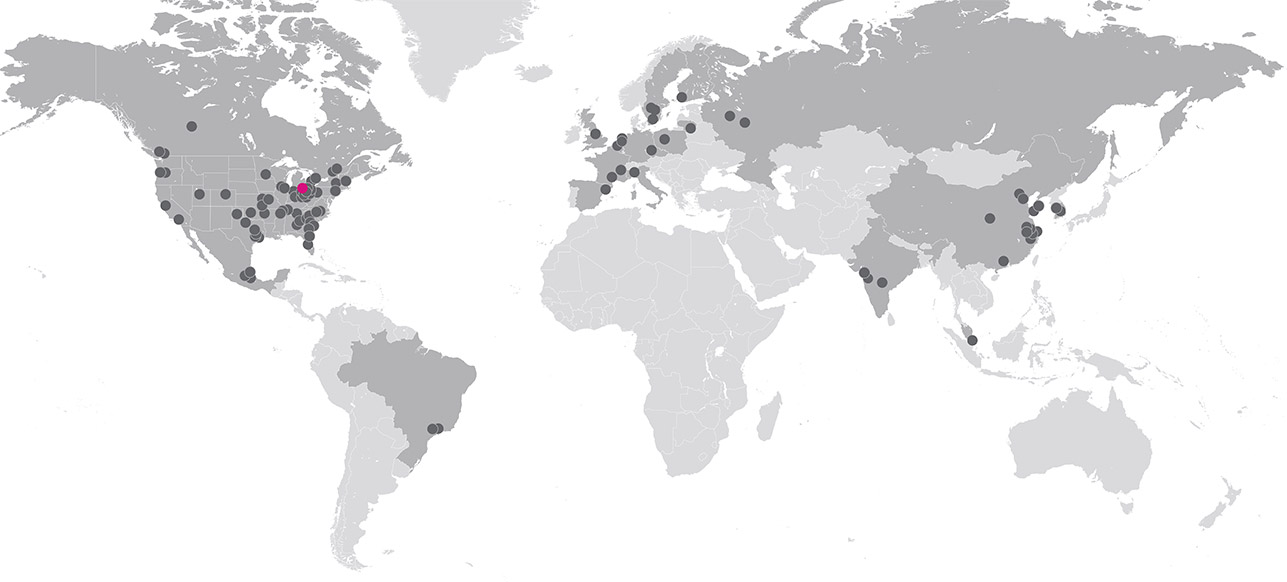 Explore our Regional Offices outside of North America: Europe | Latin America | Asia Pacific
Location Details
Headquarters – Toledo, Ohio, USA
Our headquarters in Toledo, OH – named one of the "Greenest Corporate Headquarters" by BusinessWeek Magazine – is where innovation finds its home. The revitalized Downtown area boasts our 275-seat auditorium, 400-seat dining facility and gourmet company store, a full-service health and fitness center, and many more amenities. When you bring your career to Owens Corning in Toledo, you'll discover a future where you can tackle all of your ambitions.

Granville, Ohio, USA
Granville, OH is home to the Owens Corning Science & Technology Center. The 524-acre campus hosts world-class Science and Technology professionals dedicated to developing sustainable composite and building material solutions that impact the environment and the way people live around the world. With its small-town charm, streets lined with locally owned shops, historic district, and commitment to education and development, Granville will meet all your needs when you bring your career to Owens Corning.

Chambéry, France
Our reputation as an industry leader depends on the people of our Science & Technology Center in Chambéry, France. Here, we continue to develop and invest in renewable energy, transportation, buildings, and emerging markets. Situated in a dynamic old city, Chambéry is known as a town of rich culture. It's the crown jewel of our strong presence throughout Europe that provides new opportunities to invent and improve our products. As our products advance, so will your career when you work with us in Chambéry.

Shanghai, China
Shanghai, China has been our Asia Pacific regional headquarters since 2004. This state-of-the-art Composites Center is home to talented scientists, engineers, and other professionals who grow and innovate the use of composite materials in existing and new applications. With a growing connection to the global economy and all that a metropolis has to offer, you'll find a world of opportunity for your career with us in Shanghai.