Leave your mark on our mission
Your leadership – honed through military service – can make a real difference at Owens Corning. We know that you are dedicated, driven, and ready to work with a company whose values match your own. Which means you will be a perfect fit with us. As you discover a rewarding career, you'll add your skills to our mission to make the world a safer and better place.
---

Our Innovations
From the aerospace to sports and recreation markets, our innovative products touch lives in thousands of ways. We also have a long history of assisting men and women in uniform. Since World War II, Owens Corning has provided materials to support all our military branches. Today, our glass fiber reinforcements are used on armored HMMWVs and naval vessels, while our insulation products are used in military construction projects. As we build better materials for those who keep us safe, we also help veterans directly. From building homes for wounded warriors to programs that provide necessary services, we make sure to support those who support our nation.
---

Trust Us With Your Career
By joining us, you'll discover a welcoming culture that encourages teamwork and rewards unique ideas. As you help us to create the cutting-edge materials that strengthen skyscrapers, push technology forward, and keep the world safer for everyone, you'll be making a difference with your career. We'll also support you every step of the way with resources that will help you thrive in civilian life.
Employee Spotlight

Ashley Byers, Area Sales Manager U.S. Army and U.S. Army National Guard, 12 years E-6/SSG (Non-Commissioned Officer)

"I was excited by the opportunity to work with a well-known and well-respected innovative company that offers many opportunities to excel."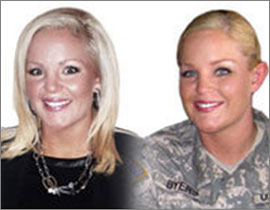 Employee Spotlight

Joseph Blair, Plant Leader Delmar Plant, Residential Insulation
U.S. Navy Submarine Service, 6 years, MM1(SS)-E6

"From the very first day I interviewed, I knew that Owens Corning was committed to hiring the best possible talent in every job, at every level. I quickly learned that it doesn't stop there. Being part of an organization that is always developing and fostering growth, with career advancement opportunities that are virtually unlimited, is why I am very proud to call Owens Corning 'My Company'."